Active+Passive Video Balun Transceiver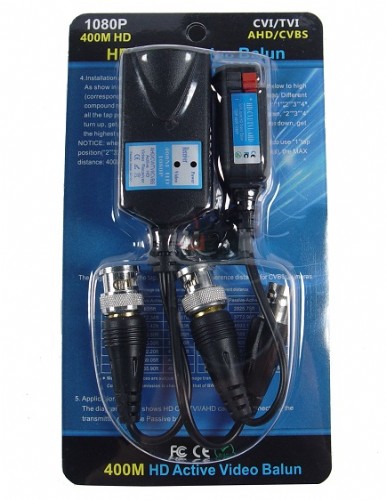 Product descriptions
Specification
Feature
Drawing
Accessory
Download
Products Series
1ch Active+Passive CCTV BNC UTP RJ45 Video Balun Transceiver Receiver.
Product features
Receive 1 channels real-time monochrome or color video over unshield twisted pair cable.

Up to 400M UTP CAT5 video transmission based on Proprietary digital compensating technology.
Built-in transient suppression protection, exceptional interference rejection.
Compatible with PAL/NTSC/SECAM.
Low power consumption.
Specification

Wire Request

UTP CAT5 Cable or S-UTP

Video

Frequency Response

DC to 6MHz

CMRR

0~6MHz,60db

Wire Requirement

Wire Type

24-16AWG, CAT 5 or above UTP

Impedance

10Ω/100M

Dcloop resistance

around 18Ω/100M

Distributed capacitance

62pF/M

Power requirement

Voltage

DC 12V

Power indicator

LED

Max current

100MA

Common power consumption

Transmitter: 0

Receiver: around 0.5W

Packing


100pcs/carton


8.2kg/carton