8Channel,10.0A and 120W Box power supply for cctv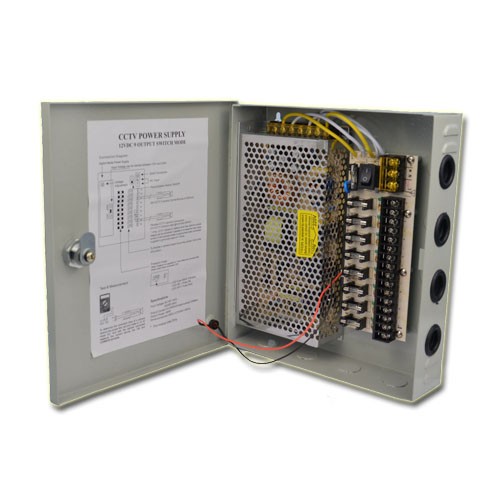 Product descriptions
Specification
Feature
Drawing
Accessory
Download
Products Series

8Channel 10.0A and 120W Box power supply for cctv and Security Cameras.

• For 12VDC individually fused outputs.
• Circuit Short protection.
• Over-load protection.
• AC power LED indicator.
• Individual LED for each output.
• Power ON/OFF switch.
• Unit maintains camera synchronization.
• Easy installation saves time and eliminates costly labour.
• 100% full load burn-in test.
• Spare fuses included.
Specification

Input Voltage

AC110/220V

Input Voltage Frequency

50/60Hz

Output Specification

Output Voltage

12 VDC

Total Output Current

10 A

Total Outputs

120W

Fuse Type

Glass Fuse (Ceramic optional)

Fuse Rating

0.5 Amps / 250VAC,1Amps/250VAC

Protection

General Protection

Each output has individual fuse and LED indicator, when problem occurs,only affect the individual output, other outputs still working

Circuit Short Protection

When short condition occurs, individual fuse will open the circuit,when condition removed, replacing another new fuse will back to close.

High Voltage Protection

When high voltage occurs, the surge protection will be hit through to protect the connected device

Over Current protection

When over current occurs, the power supply will automatically switch toself-protection status, when condition removed, then switch back to normal

Different Currents output

Multiple and different Currents output for different cameras

Feature

Power ON/OFF switch;Spare fuses included

Unit maintains camera synchronization

Easy installation saves time and eliminates costly labor

Application

CCTV

Camera, PTZ, IR Illuminators, Video Process Equipment, etc.

Access Control

Reader, Lock, Panel, etc.